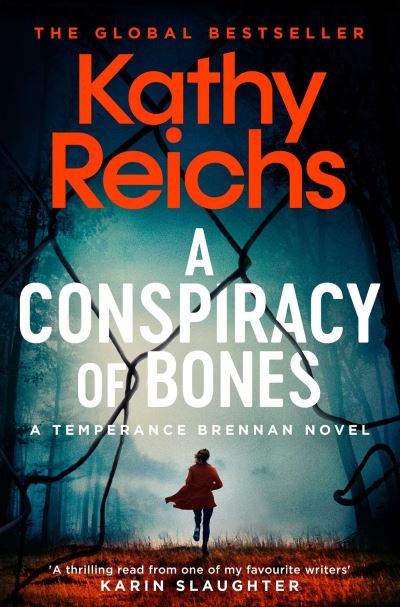 A conspiracy of bones
£8.99
Number One New York Times bestselling author Kathy Reichs returns with her nineteenth riveting novel featuring forensic anthropologist Temperance Brennan, who must use all her tradecraft to discover the identity of a faceless corpse, its connection to a decade-old missing child case, and the reason the dead man had her phone number.
THE NEW SUNDAY TIMES BESTSELLING NOVEL IN THE TEMPERANCE BRENNAN SERIES
A RICHARD AND JUDY BOOK CLUB PICK
'Read this book.' DAVID BALDACCI 
'One of the absolute best thrillers of the year' JEFFERY DEAVER 
'You will find it hard to put down' MARK BOWDEN
 
EVERY BODY HAS SECRETS
It all starts with a series of text messages. Each message contains a new picture of a corpse, missing its face and hands. Dr Temperance Brennan needs to find out who the dead man is, and why the images were sent to her. The only problem is, she has been kicked off the team.
 
So she goes rogue, knowing that she is the only one who can solve this case. As she starts her investigation she discovers a connection to a decade-old missing child case. The more she uncovers, the darker and more twisted the picture becomes . . .
Praise for A Conspiracy of Bones
'I can't recall when this many twists have been so masterfully woven into a novel. A great series has just gotten greater' JEFFERY DEAVER, #1 internationally bestseller author of The Bone Collector and The Never Game
 
'A Conspiracy of Bones shows off Kathy Reichs' dazzling new level of plotting mastery.' KARIN SLAUGHTER, #1 internationally bestselling author of The Last Widow and The Good Daughter 
'Reich's fast-paced, tightly-constructed, and very contemporary story dives underground here, both literally and virtually, as she follows the thinnest of threads deeper and deeper into a shocking conspiracy. You will find it hard to put down' MARK BOWDEN, #1 New York Times bestselling author of The Last Stone and Black Hawk Down
'So many pulse-pounding twists and surprises-it kept me guessing till the end!' R.L. STINE, bestselling author Goosebumps and Fear Street
 
'This is Kathy Reichs doing what she does best: sorting through the bones until the shocking end' BRAD MELTZER, #1 New York Times bestselling author of The Escape Artist
 
'Kathy Reichs writes brilliant mysteries that are as realistic as non-fiction and as fast-paced as the best thrillers about Jack Reacher or Alex Cross' JAMES PATTERSON
'Nobody does forensics thrillers like Kathy Reichs. She's the real deal' DAVID BALDACCI
'Each book in the Temperance Brennan series is better than the last, I just can't get enough!' LISA SCOTTOLINE 
'Every minute in the morgue with Tempe is golden' THE NEW YORK TIMES BOOK REVIEW
In stock