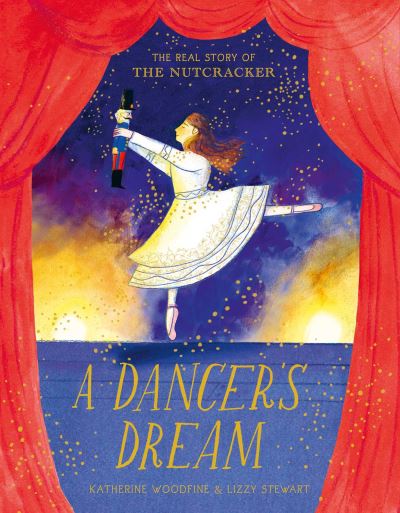 A Dancer's Dream
£14.99
Written by Katherine Woodfine, author of The Sinclair Mysteries, and illustrated by the incomparable Lizzy Steward, winner of the Waterstone's Book Prize, A Dancer's Dream is a sumptuous retelling of The Nutcracker.  With Stunningly high-spec design, including two foils and a jacketed hardback, this irresistible book is the perfect gift for all would-be ballerinas everywhere and the perfect Christmas gift! 
This gorgeously designed retelling of The Nutcracker will make the perfect Christmas present for ballet fans everywhere!
In snow white covered St. Petersburg, young dancer Stana's dreams have finally come true – she has been chosen to play the lead role in Tchaikovsky's new ballet, The Nutcracker. But with all eyes looking at her, can Stana overcome her nerves and dance like she's never danced before?
 
From the author of the bestselling The Sinclair Mysteries, Katherine Woodfine, and Waterstone's Book Prize winner, Lizzy Stewart, this sumptuous and magical retelling of The Nutcracker will transport you on a journey fay beyond the page. 
Praise for Katherine Woodfine's The Sinclair's Mysteries series:
'A wonderful book, with a glorious heroine and a true spirit of adventure' Katherine Rundell, award-winning author of Rooftoppers
'Dastardliness on a big scale is uncovered in this well-plotted, evocative novel' The Sunday Times
'It's a dashing plot, an atmospheric setting and an extensive and imaginative cast. Katherine Woodfine handles it all with aplomb' The Guardian
Praise for Lizzy Stewart's There's a Tiger in the Garden (Winner of the Waterstones Children's Book Prize 2017, Illustrated Books Category):
'A journey of discovery' The Guardian
'A stunning testament to the power of imagination' Metro