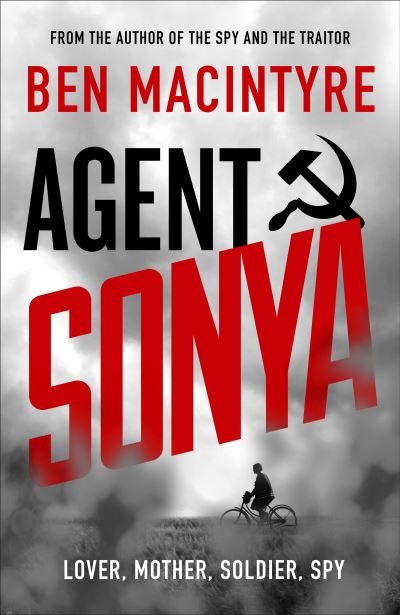 Agent Sonya
£25.00
In the quiet Cotswolds village of Great Rollright in 1942, a thin, and unusually elegant, housewife emerged from her cottage to go on her usual bike ride. A devoted mother-of-three, attentive wife and friendly neighbour, Sonya Burton seemed to epitomise rural British domesticity. However, rather than pedalling towards the shops with her ration book, Sonya was heading for the Oxfordshire countryside to gather scientific secrets from a nuclear physicist. Secrets that would enable the Soviet Union to build the atomic bomb. Far from an obedient homemaker, Sonya Burton was a dedicated communist, a decorated colonel and a veteran spy who risked her life to keep the Soviet Union in the nuclear arms race. In 'Agent Sonya', Ben Macintyre reveals the astonishing story behind the most important woman spy in history and the huge emotional cost that came with being a mother, a wife, and a secret agent at once.
A TOP TEN SUNDAY TIMES BESTSELLER
'His best book yet' The Times
'Macintyre's page-turner is a dazzling portrait of a flawed yet driven individual who risked everything (including her children) for the cause' Sunday Times
DISCOVER THE INCREDIBLE TRUE STORY OF THE SPY WHO ALMOST KILLED HITLER – FROM THE BESTSELLING AUTHOR OF THE SPY AND THE TRAITOR
Ursula Kuczynski Burton was a spymaster, saboteur, bomb-maker and secret agent. Codenamed 'Agent Sonya', her story has never been told – until now.
Born to a German Jewish family, as Ursula grew, so did the Nazis' power. As a fanatical opponent of the fascism that ravaged her homeland, Ursula was drawn to communism as a young woman, motivated by the promise of a fair and peaceful society.
From planning an assassination attempt on Hitler in Switzerland, to spying on the Japanese in Manchuria, to preventing nuclear war (or so she believed) by stealing the science of atomic weaponry from Britain to give to Moscow, Ursula conducted some of the most dangerous espionage operations of the twentieth century.
In Agent Sonya, Britain's most acclaimed historian Ben Macintyre delivers an exhilarating tale that's as fast-paced as any fiction. It is the incredible story of one spy's life, a life that would alter the course of history . . .
'Macintyre does true-life espionage better than anyone else' John Preston
'Macintyre has found a real-life heroine worthy of his gifts as John le Carré's nonfiction counterpart' New York Times

'This book is classic Ben Macintyre . . . quirky human details enliven every page' Spectator
In stock