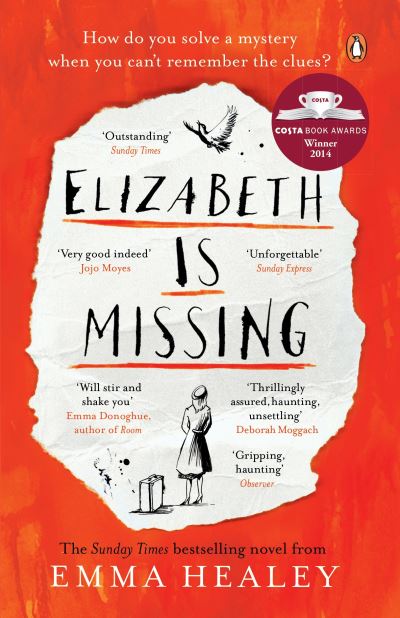 Elizabeth is Missing
£8.99
'Elizabeth is missing', reads the note in Maud's pocket in her own handwriting. Lately, Maud's been getting forgetful. She keeps buying peach slices when she has a cupboard full, forgets to drink the cups of tea she's made and writes notes to remind herself of things. But Maud is determined to discover what has happened to her friend, Elizabeth, and what it has to do with the unsolved disappearance of her sister Sukey, years back, just after the war.
NOW A MAJOR BBC DRAMA
A SUNDAY TIMES TOP FIVE BESTSELLER

how do you solve a mystery when you can't remember the clues?
Maud is forgetful. She makes a cup of tea and doesn't remember to drink it. She goes to the shops and forgets why she went. Sometimes her home is unrecognizable – or her daughter Helen seems a total stranger.
But there's one thing Maud is sure of: her friend Elizabeth is missing. The note in her pocket tells her so. And no matter who tells her to stop going on about it, to leave it alone, to shut up, Maud will get to the bottom of it.
Because somewhere in Maud's damaged mind lies the answer to an unsolved seventy-year-old mystery. One everyone has forgotten about.
Everyone, except Maud . . .
Winner of the Costa First Novel Award
Shortlisted for National Book Awards Popular Fiction Book
Shortlisted for National Book Awards New Writer of the Year
Longlisted for the Dylan Thomas Prize
Longlisted for the Baileys Prize for Women's Fiction
'A thrillingly assured, haunting and unsettling novel, I read it at a gulp' Deborah Moggach, author of The Best Exotic Marigold Hotel
'Elizabeth Is Missing will stir and shake you: the most likeably unreliable of narrators, real mystery at its compassionate core…' Emma Donoghue, author of Room
'Resembling a version of Memento written by Alan Bennett' Daily Telegraph
'One of those mythical beasts, the book you cannot put down' Jonathan Coe, author of The Rotters Club
'Every bit as compelling as the frenzied hype suggests. Gripping, haunting' Observer
In stock