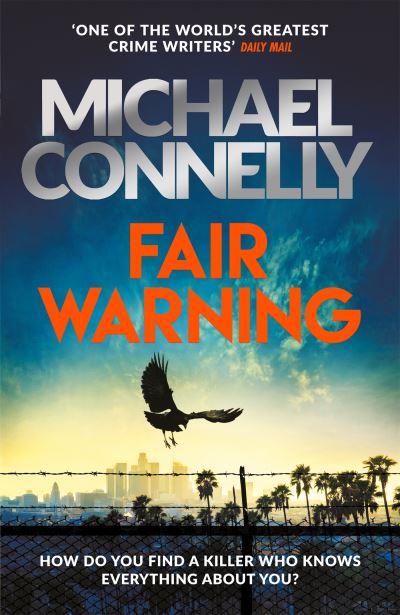 Fair Warning
£8.99
Veteran reporter Jack McEvoy has taken down killers before, but when a woman he had a one-night stand with is murdered in a particularly brutal way, McEvoy realizes he might be facing a criminal mind unlike any he's ever encountered. McEvoy investigates – against the warnings of the police and his own editor – and makes a shocking discovery that connects the crime to other mysterious deaths across the country. But his inquiry hits a snag when he himself becomes a suspect. As he races to clear his name, McEvoy's findings point to a serial killer working under the radar of law enforcement for years, and using personal data shared by the victims themselves to select and hunt his targets.
HOW DO YOU FIND A KILLER WHO KNOWS EVERYTHING ABOUT YOU?
'AS EXCITING AS ANYTHING CONNELLY HAS WRITTEN' THE TIMES
* * * * *
Jack McEvoy is a reporter with a track record in finding killers. But he's never been accused of being one himself.
Jack went on one date with Tina Portrero. The next thing he knows, the police are at his house telling Jack he's a suspect in her murder.
Maybe it's because he doesn't like being accused of a crime he didn't commit. Or maybe it's because the method of her murder is so chilling that he can't get it out of his head.
But as he uses his journalistic skills to open doors closed to the police, Jack walks a thin line between suspect and detective – between investigation and obsession – on the trail of a killer who knows his victims better than they know themselves…
Riveting, original and terrifying – this is a masterpiece from #1 bestseller Michael Connelly.
* * * * *

CRIME DOESN'T COME BETTER THAN CONNELLY.

'One of the very best writers working today in any genre' Sunday Telegraph

'The pre-eminent detective novelist of his generation' Ian Rankin
'Crime thriller writing of the highest order' Guardian
'A superb natural storyteller' Lee Child
'A master' Stephen King
'A genius' Independent on Sunday
'America's greatest living crime writer' Daily Express
'No one writes a better modern thriller than Connelly' Evening Standard
In stock (can be backordered)