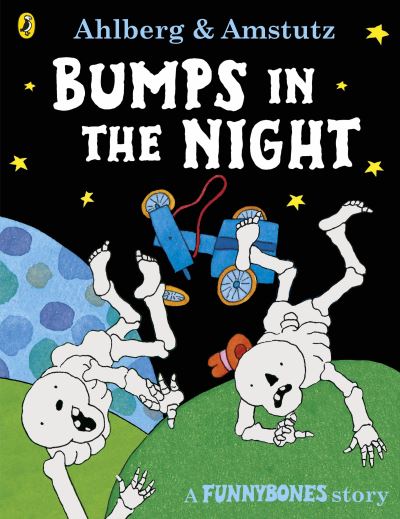 Funnybones: Bumps in the Night
£6.99
Another story of the big skeleton, the little skeleton and the dog skeleton. This time they find that they can't stop bumping into each other whether they're in the park, at home or at school. The only thing to do is to send for Dr Bones who does a great job of patching them up again.
Bumps in the Night is one of the titles in Allan Ahlberg's iconic children's picture book series about skeletons, Funnybones. Despite being set in a dark dark house, this brightly coloured book is perfect for early readers!
No matter where they are, the two skeletons keep going bump in the night – clonk!
There's only one thing to do: "Send for Doctor Bones!"
'There can be few families in the British Isles who do not possess at least one well-thumbed Ahlberg' – Independent on Sunday
Allan Ahlberg has published over 100 children's books and with his late wife Janet, created such award-winning children's picture books, including Peepo!, Each Peach Pear Plum and the Kate Greenaway Medal winning The Jolly Postman. Other titles in the Funnybones series include Funnybones, Mystery Tour, The Ghost Train, The Pet Shop, The Black Cat, Dinosaur Dreams, Skeleton Crew, Give the Dog a Bone and A Brilliant Bone Rattling Collection, all of which are available from Puffin.
In stock