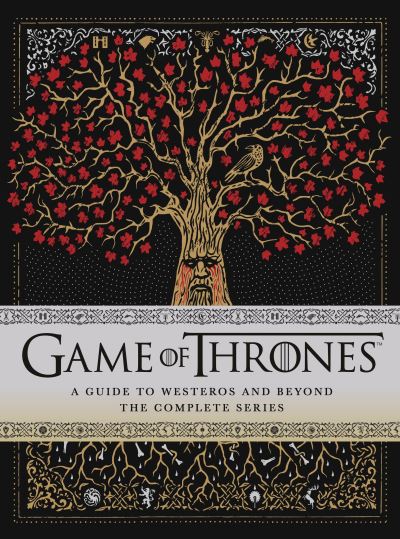 Game of Thrones: A Guide to Westeros and Beyond
£20.00
As the world waits in anticipation for the final series of the biggest TV show in history, Game of Thrones, this book takes viewers deeper into the world of Westeros than ever before. Packed with insightful essays and illustrated with detailed timelines, maps, infographics and photography, this is the ultimate companion for every fan. Exploring the complex stories, characters, relationships, and world-building, this book covers everything from Seasons 1 to 8.
Feeling lost without Game of Thrones? Relive all 8 series with the ONLY official tie-in guide to the biggest TV series in the world.
Delve deeper into Westeros than ever before. . .
Covering all eight seasons of the hit HBO show, this remarkable volume offers a unique and exciting visual exploration into the incredible world of Game of Thrones.
In two parts, the book follows the story of the South, where kings and queens battle for the Iron Throne, and of the North, where the White Walkers and their army of the dead gather.
Fully illustrated with stunning photography, infographics, timelines and insightful essays, this is the essential guide for any Game of Thrones fan.
· Find out more about your favourite characters with in-depth biographies
· Read explanations of key relationships from Jon & Daenerys, to Jaime & Brienne
· Discover the locations of King's Landing, Oldtown, The Iron Islands and more
· Piece together ancestry with family trees of the four Houses
· Learn about the creatures of GOT, from Dragons to Direwolves
· Get the full story of major battles and events
· Discover must-know facts about everything from Heartsbane to Greyscale
· And so much more . . .
'Everything a fan could want' Woman & Home

'An exciting exploration into the incredible world of Game of Thrones' My Weekly
In stock