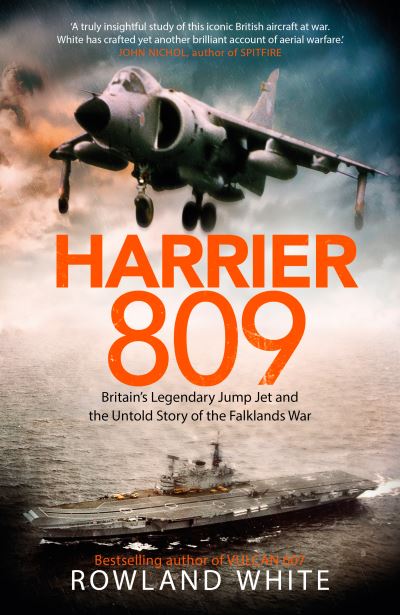 Harrier 809
£20.00
When the Falkland Islands were invaded by Argentina in April 1982, Britain's immediate response was to send a task force. But behind the pomp and bravado of its departure, a sober reality lurked. A mere 20 Sea Harriers operating from two aircraft carriers would take on the might of the Argentine air force, some 200 planes strong. The MOD estimated that within four days and against such formidable air power, half the harriers would likely be lost. To reinforce that meagre force, and in just three weeks, the Navy formed, trained and equipped a brand new squadron from scratch. Not since the Second World War had so much been expected of such a small band of pilots. Their home would be a container ship converted into a makeshift carrier. 809 Naval Air Squadron was born.
'A military adventure, written with expertise?a tale of initiative,skill and courage, of pushing beyond the rules.' The Spectator
April 1982. Argentina invades the Falkland Islands.
In response, Britain despatches a naval Task Force. Eight thousand miles from home, its fate hinges on just twenty Sea Harriers against the two hundred-strong might of the Argentine Air Force.
The odds against them are overwhelming.
The MoD's own estimates suggest that half the Harriers will be lost within a week. Against this background, 809 Naval Air Squadron is reformed, trained and sent south to fight.
Not since WWII had so much been expected of such a small band of pilots.
Combining groundbreaking research with the pace of a thriller, Rowland White reveals the full story of the fleet's knife-edge fight for survival for the first time, and shows how the little jump jet went from airshow novelty to sealing its reputation as an icon of British aviation, alongside the Spitfire and the Hurricane.
'Without the Sea Harrier there could have been no Task Force'
Admiral Sir Henry Leach, First Sea Lord and Chief of the Naval Staff
Available on Order