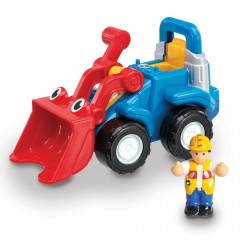 Lift-It Luke Digger
£15.99
This item is currently available from the bookshop for collection only.
Lift-it Luke is the super strong and lightweight digger ready for any construction task. Pull his handle to lift his bucket and push him along to transport him around the building site.
This motorised Push and Go digger has realistic engine sounds (battery-free). He has an easy to use lifting front bucket with an arm that locks into upright position. His driver is a removable figure.
This toy encourages development of motor skills and inspires imaginative and creative role-play.
Better still there is no PVC, no toxic paint, BPA free, no small parts and it is easy to clean. All WOW toys are battery-free and incredibly hard wearing!
Dimensions: L: 280mm H: 180mm D: 125mm
For Age 1 – 5 years
*We stock a huge range of WOW toys – give us a call if you would like a campervan, rocket, plane, farmer or princess carriage!
In stock