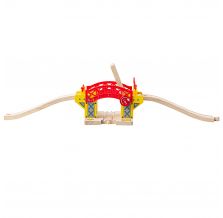 Lifting Bridge
£17.99
This item is currently available for collection from the bookshop only.
Up the hill, raise and lower the gates, move the bridge up and down, make sure the train passes safely underneath, and then move the traffic across and down the other side. It's time to take responsibility for which trains can pass and when!
A great add on to any train set, adding a whole new level of interest and helping with learning and development. Consists of 3 play pieces. Most other major wooden railway brands are compatible with Bigjigs Rail. Made from high quality, responsibly sourced materials. Conforms to current European safety standards.
For Age 3+ years
In stock