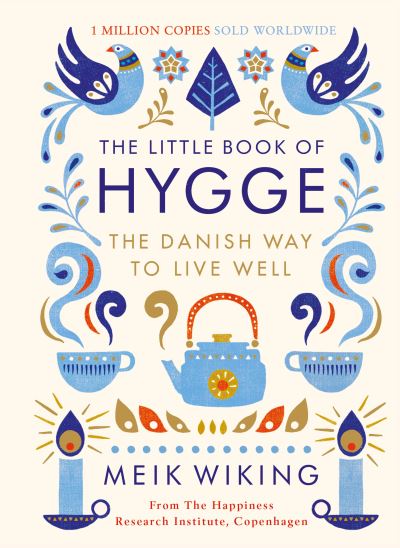 The Little Book of Hygge: The Danish Way to Live Well
£9.99
The Danish word hygge is one of those beautiful words that doesn't directly translate into English, but it more or less means comfort, warmth or togetherness. Hygge is the feeling you get when you are cuddled up on a sofa with a loved one, in warm knitted socks, in front of the fire, when it is dark, cold and stormy outside. It that feeling when you are sharing good, comfort food with your closest friends, by candle light and exchanging easy conversation. It is those cold, crisp blue sky mornings when the light through your window is just right. Denmark is the happiest nation in the world and Meik puts this largely down to them living the hygge way. They focus on the small things that really matter, spend more quality time with friends and family and enjoy the good things in life. 'The Little Book of Hygge' will give you practical steps and tips to become more hygge.
**THE INTERNATIONAL, NEW YORK TIMES and SUNDAY TIMES BESTSELLER, WITH OVER A MILLION COPIES SOLD AROUND THE WORLD**
Denmark has an international reputation for being one of the happiest nations in the world, and hygge is widely recognised to be the magic ingredient to this happiness.
Hygge has been described as everything from "cosines of the soul" to "the pursuit of everyday pleasures". The Little Book of Hygge is the book we all need right now, guaranteed to bring warmth and comfort into your life.
Hooga? Hhyooguh? Heurgh? It is not really important how you choose to pronounce or even spell 'hygge'. What is important is that you feel it. Whether you're cuddled up on a sofa with a loved one, or sharing comfort food with your closest friends, hygge is about creating an atmosphere where we can let your guard down.
The Little Book of Hygge is the definitive, must-read introduction to hygge, written by Meik Wiking, CEO of the Happiness Research Institute in Copenhagen. The book is packed full of original research on hygge, conducted by Meik and his team, along with beautiful photographs, recipes and ideas to help you add a touch of hygge to your life.
In stock