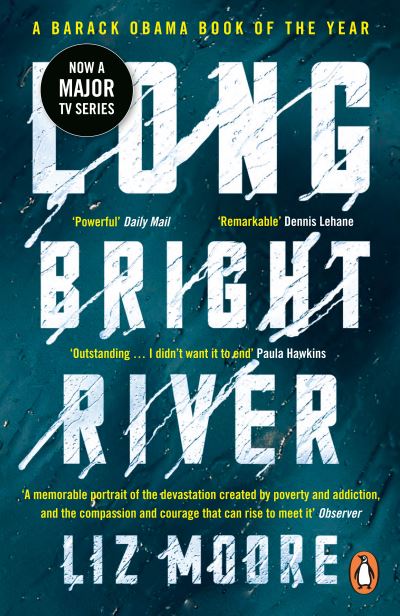 Long bright river
£8.99
Mickey Fitzpatrick has been patrolling the 24th District for years. She knows most of the working women by name. She knows what desperation looks like and what people will do when they need a fix. She's become used to finding overdose victims: their numbers are growing every year. But every time she sees someone sprawled out, slumped over, cold to the touch, she has to pray it's not her sister, Kacey. When the bodies of murdered sex workers start turning up on the Ave, the Chief of Police is keen to bury the news. They're not the kind of victims that generate a whole lot of press anyway. But Mickey is obsessed, dangerously so, with finding the perpetrator – before Kacey becomes the next victim.
SELECTED BY BARACK OBAMA AS ONE OF HIS BEST BOOKS OF 2020
A New York Times bestseller and Guardian Book of the Month
'This flawless masterpiece deserves to be a bestseller.' DAILY EXPRESS
'Tough, tense and twisty – but tender, human and deeply affecting, too … I don't have a sister, but when I finished the book I called my brother, just to hear his voice.' LEE CHILD

'An outstanding crime novel.' PAULA HAWKINS, author of The Girl on the Train
_____________________________________
Once inseparable, sisters Mickey and Kacey are on different paths, but they walk the same streets. Mickey on her police beat and Kacey in the shadows of the city's darkest corners where the drug addicts and sex workers preside. When a string of murders coincides with Kacey's disappearance, Mickey is terrified her sister could be next.
But in a community where death and murder is rife, will Mickey be able to save her sister before it's too late?
_____________________________________
'A remarkable, profoundly moving novel about the ties that bind and the irrevocable wounds of childhood. It's also a riveting mystery, perfectly paced. I loved every page of it.' DENNIS LEHANE
'Outstanding . . . an intense family thriller . . . The clever plot and involving characters set a high standard for this new year.' DAILY MAIL
'This is a thrilling and heartbreaking exploration of the strain the opioid crisis puts on families. A masterpiece.' DAILY MIRROR
In stock (can be backordered)