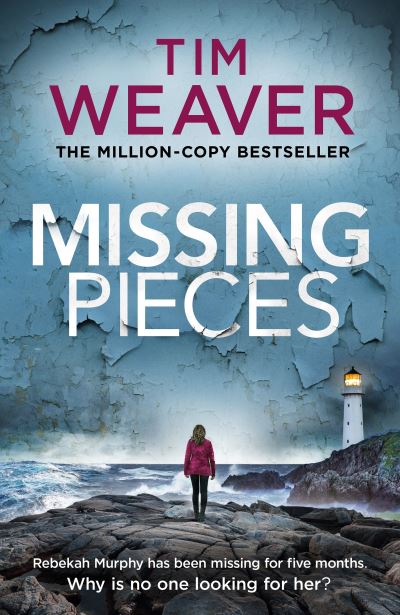 Missing Pieces
£12.99
Imagine you don't know your own darkest secret. But someone else does – and now they want you dead. Exhausted single mother Rebekah Murphy leaves her daughters with a friend in the city to accompany her brother on a work assignment on a picturesque island. An hour after arriving, her and her brother are attacked. He vanishes, she's left for dead and, by the time she makes it back to safety, it's already too late: the island has closed for the season – and it'll be seven months before anyone returns. But even with her brother missing, even with no boats, phones or people, Rebekah will soon realise that finding a way back to the mainland is only the start of her nightmare. Because someone is waiting for her – and they don't want her to make it home alive.
THE BRAND-NEW THRILLER FROM SUNDAY TIMES BESTSELLING AUTHOR TIM WEAVER IN HIS FIRST STANDALONE, perfect for fans of the DAVID RAKER series

'Smart, pacy and completely gripping – you'll feel like you're right there in the thick of the action. A five-star thriller' T.M. LOGAN, bestselling author of THE HOLIDAY
'Pitch perfect Tim Weaver. Utterly addictive' 5***** Reader Review
'A thriller ride with all the hallmarks of Tim Weaver' 5***** Reader Review
'As with the David Raker books this story had my heart racing' 5***** Reader Review
Rebekah Murphy has been missing for five months. Why is no one looking for her?
________
Rebekah Murphy knows too much . . .
She knows she's alone on an abandoned island with a killer on her trail.
She knows that to get home, she must live to understand why this is happening.
She knows someone tried to kill her for a secret.
What she doesn't know is what that secret is . . .
Detective Frank Travis doesn't know enough . . .
He doesn't know where to find Louise Mason.
He doesn't know how and why she vanished into thin air three months ago.
He doesn't know the identity of the man last seen talking to her.
What he does know is that he retires in one week – and if he doesn't find out where Louise went, no one will . . .
What neither Rebekah nor Detective Travis realize is that each holds a missing piece from the same puzzle – and it will cost them everything to finally solve it . . .
________
'Showcases Tim Weaver's trademark clever and original plotting. Twisty, unpredictable and so gripping. That ending will stay with me for a long time. A brilliant book!' CLAIRE DOUGLAS, bestselling author of JUST LIKE THE OTHER GIRLS

'Raw, fraught, multi-layered, and a fantastic portrayal of a strong female heroine in peril' GILLIAN MCALLISTER, bestselling author of How to Disappear
'An outstanding book, absolutely superb. The solution reminded me of a Russian Doll, where you take one apart to find another one still to be opened' 5***** Reader Review
'This book has blown me away! I read it in a day as I physically couldn't put it down. An absolute must-read for everyone' 5***** Reader Review

Praise for Tim Weaver:
'So many twists and surprises' Times
'Impressive' Guardian

'Terrific' Sunday Times
'I couldn't put it down' Sun

'It had me racing to the end' Fiona Barton
'Packed with twists' Daily Express

'Genuinely original' Gillian McAllister
Available on Order