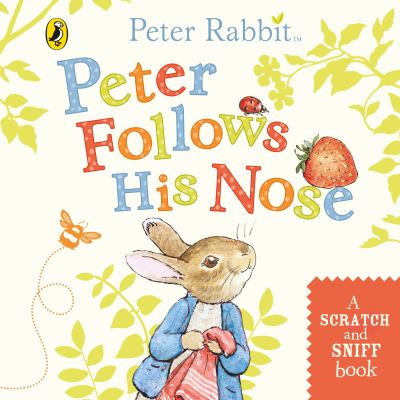 Peter Follows His Nose: Scratch and Sniff Book
£7.99
Peter Rabbit is following his nose to find the most delicious smells and foods. What foods will he sample, and will his hunger get him into trouble with Mr McGregor? Follow Peter Rabbit as he sets off on a little adventure, and meet many familiar faces and places. From the comforting scent of lavender and blackberry pie in the burrow, to the strawberries that Peter and Benjamin munch on and the enticing smell of peppermint in Ginger and Pickles' shop, this story is an interactive feast for the senses for all fans of Beatrix Potter and everyone's favourite naughty little rabbit.
Scratch-and-sniff your way through an adorable adventure with Peter Rabbit!

Hop along with Peter Rabbit as he explores his neighbourhood–from the Rabbit burrow to Mr. McGregor's Garden and back again–in this scratch-and-sniff story.
With amazing and fun smells like Mrs. Rabbit's blackberry pie and apples from the orchard, plus comforting scents of lavender and peppermint this is an interactive story like no other!
In stock