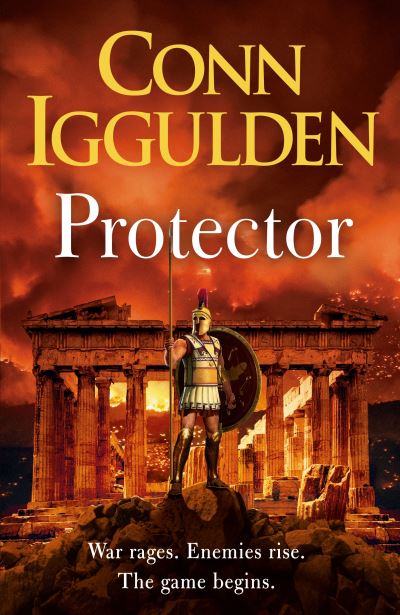 Protector
£20.00
Persian King Xerxes stands over the smoking ruins of Athens, an army of slaves at his back. Come to destroy, once and for all, everything that the city stands for, he stares pitilessly at the hopelessly outnumbered Greeks. Veteran soldier Themistocles cannot push the Persians back by force on land, and so he does so by stealth, at sea. Over three long days, the greatest naval battle of the ancient world will unfold, a bloody war between the democracy of Athens and the tyranny of Persia. Less than a year later, the Persian return to reconquer the Greeks. Tens of thousands of soldiers on both sides ready themselves for war. For the Spartans, Plataea is chance to avenge their defeat at Thermopylae. For the people of Athens, threatened on all sides, nothing less than the survival of democracy is at stake. And once again Themistocles, the hero of Salamis, will risk everything to protect his country.
TWO LEGENDARY BATTLES. ONE FEARLESS WARRIOR . . .

'Brings war in the ancient world to vivid, gritty and bloody life' Anthony Riches
'Another masterpiece from Iggulden' 5***** Reader Review
'It's like being on the battlefield' 5***** Reader Review
'An epic piece of historical fiction, full of political intrigue and vivid action' Robert Fabbri
EXPERIENCE THE EPIC BATTLEFIELDS OF ANCIENT GREECE WITH MASTER STORYTELLER CONN IGGULDEN
________
Themistocles stands as the leader of Athens.
Distrusted by many, he must prove himself again and again in battle.
So when the Persian army approaches, it's time for Themistocles to fight . . .
Fight the invaders.
Fight the allies who despise him.
Fight for his city.
Because history belongs to the courageous . . .
________
PRAISE FOR CONN IGGULDEN

'The pace is nail-biting and the set-dressing magnificent' Times

'Pacy . . . and packed with action' Sunday Times

'One of our finest historical novelists' Daily Express

'Iggulden is in a class of his own when it comes to epic, historical fiction' Daily Mirror
In stock