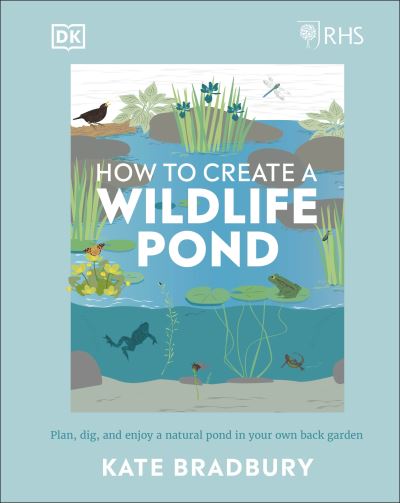 RHS How To Create A Wildlife Pond
£14.99
The best way to attract wildlife to your garden is to build a pond. If you want to do your bit to support local biodiversity, pick up a spade and start digging. This book makes it easy to attract and support a huge array of species, with fully illustrated step-by-steps showing you how to plan, dig, line, and fill a simple wildlife pond, alongside alternatives including container ponds and more formal designs. Discover the best mix of plants you'll need to keep your pond thriving, how to make sure that creatures can enter and exit the water safely, and the little extra touches that can attract and support all kinds of wildlife.
If you want to do your bit to support local biodiversity, start your own wildlife pond in your back garden.
Whether you are looking to do something to help the environment, building a feature pond as a family landscaping project, or attracting local wildlife to your garden; a wildlife pond is a perfect addition to your gardening efforts.
Learn everything there is to know about wildlife ponds with:
– Photographic and illustrative step-by-step guides on planning, creating, and maintaining your pond
– A variety of pond types covered, including natural-style ponds, container ponds, and more traditional, formal-style ponds that still attract wildlife
– What to expect throughout the seasons, the creatures that will visit, and the aquatic plants that will thrive
– Tips on what to look out for in your pond, encouraging a natural eco-system, and how to maintain your newly built pond throughout the year
Find out everything you'll need to know to create a natural sanctuary in your garden! This book shows you how to create a backyard pond without filters, pipes, and chemicals, and how to attract and support local species. RHS How to Create a Wildlife Pond provides easy-to-follow steps on how to dig your own pond line, advice on which pond plants to choose from, and how to make sure local wildlife can enjoy your pond safely.
This book will also give you advice on how to take care of your newly built water feature so that you're able to enjoy the local animals, insects and birds for years to come. You can expect to see blackbirds bathing in your pond, hedgehogs using it as a water source, and bats flying over at night to catch insects. This wonderful book is filled with photographs and illustrations that will make planning and creating your own pond a therapeutic and fulfilling experience!
Complete the Series:
There are so many ways for you to enjoy your garden! If you're looking for tips on environmental changes and landscaping ideas, DK books have even more gardening guides and projects for you to explore. Discover RHS How to Garden the Low Carbon Way, or bring even more feathered friends to your garden with How to Attract Birds to Your Garden.
In stock