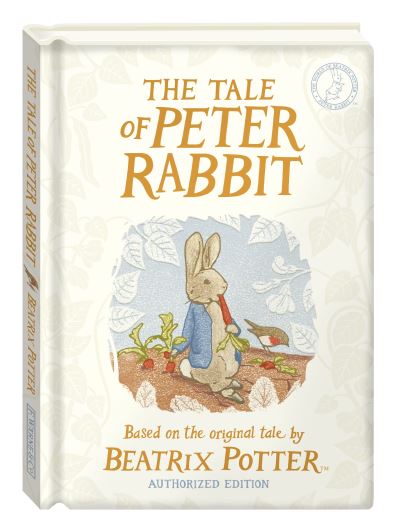 The Tale of Peter Rabbit: Gift Edition
£12.99
'The Tale of Peter Rabbit' was first published by Frederick Warne in 1902 and endures as Beatrix Potter's most popular and well-loved tale. It tells the story of a very mischievous rabbit and the trouble he encounters in Mr McGregor's vegetable garden!
The perfect gift for a Christening or first birthday to introduce the smallest readers to the magical world of Beatrix Potter and Peter Rabbit.
Beatrix Potter was an advocate for nature and beautiful landscapes, and this is reflected in her illustrations of Peter's world.
Before the full-colour edition of The Tale of Peter Rabbit was published, Potter arranged a private printing of the book in 1901. It was illustrated with black-and-white line drawings, and it is these illustrations which have been adapted for this special gift edition of the tale.
Potter's drawings have been combined with a variety of patterns that take inspiration from the natural world in which the tale is set.
The botanical patterns reflect Potter's illustrations, and the soft, natural palette and block-printing effect refers back to the Golden Age of children's illustrated books.
In stock