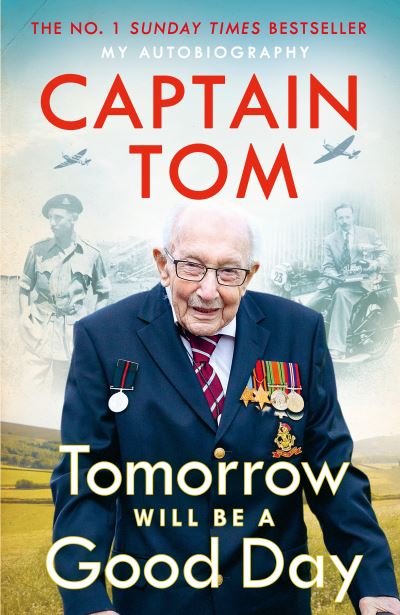 Tomorrow Will Be A Good Day: My Autobiography – The Sunday Times No 1 Bestseller
£20.00
Captain Tom Moore is an inspiration. At the height of the Covid-19 pandemic in early April this 99-year-old Second World War veteran came up with a big idea: he'd walk laps of his garden to raise money for the NHS. Despite using a walking frame as well as recent treatment for cancer and a broken hip, he was determined to hit 1000 by his 100th birthday on 30th April. By the time the telegram from the Queen arrived, he'd raised over 30 million. In this, his official autobiography, published in support of the creation of the Captain Tom Foundation, he tells us of his long and dramatic life. How his spirit was forged on the battlefields of Burma where victory was snatched from the jaws of defeat. How he fearlessly raced motorbikes competitively. How, in his 90s, he took off for the Himalayas and Everest, simply because he'd never been. And, finally, how this old soldier came to do his bit for the NHS.
Sit down and enjoy the charming, uplifting and inspiring story of Captain Tom this Christmas
*** THE SUNDAY TIMES NO 1 BESTSELLER ***

'A wonderful life story with lessons for us all . . . beautifully written' DAILY TELEGRAPH

'Gloriously enthralling' DAILY MAIL
From his humble Yorkshire childhood, via the battlefields of Burma and the peaks of the Himalayas, to becoming the NHS and the nation's hero during Lockdown, this is a journey for all of us.
__________
Who is Captain Sir Tom Moore?
You've seen him on the television walking the length of his garden. A frail elderly man, doing his bit at a time of crisis. But he wasn't always like this.
Where did he come from? Where was he made?
From a childhood in the foothills of the Yorkshire Dales, Tom Moore grew up in a loving family, which wasn't without its share of tragedy. It was a time of plenty and of want. When the storm clouds of the Second World War threatened, he raised his hand and, like many of his generation, joined up to fight.
His war would take him from a country he had never left to a place which would steal his heart, India, and the Far East, to which he would return many years later to view the sight he had missed first time around: the distant peak of Everest.
Captain Tom's story is our story.
It is the story of our past hundred years here in Britain.
It's a time which has seen so much change, yet when so much has stayed the same: the national spirit, the can-do attitude, the belief in doing your best for others.
In this rich, happy life packed with incident you will encounter time and again the curiosity, courage and generosity that saw Captain Tom look around him during our current crisis and decide that something had to be done . . .
'Engaging . . . His upbeat nature shines through and reminds us how much worse this year would have been without him' Evening Standard

'A wonderful read. Captain Tom is a beacon of light, and hope, and positivity' Piers Morgan, Life Stories, ITV
'A great book' Good Morning Britain
'A beautiful book. We have so much to learn from Captain Sir Tom' Chris Evans, Virgin Radio
'Fascinating. It's the life story of an ordinary man who is extraordinary' Michael Ball, BBC Radio 2
In stock