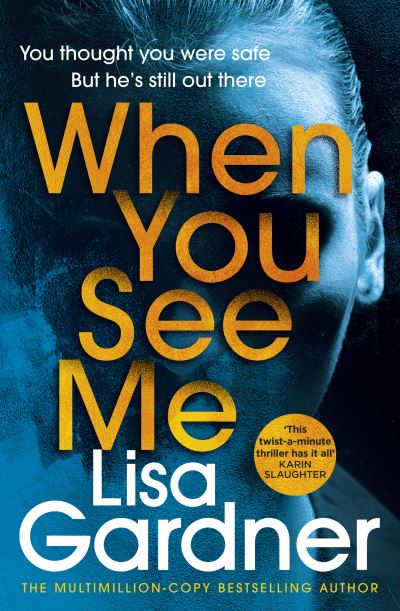 When You See Me: the top 10 bestselling thriller
£7.99
Serial kidnapper and torturer Jacob Ness is dead, but his darkest secret is waiting to be revealed. Kimberly Quincy of the FBI and Sgt Detective D.D. Warren are heading a task force dedicated to hunting down every trace of evil Ness left behind. A shocking discovery from a forgotten case turns their evidence on its head – and leads them to bring in Flora Dane, one of Ness's victims. The tantalising trail of breadcrumbs leads them to a small town in the Deep South. In the humid Georgian heat, the investigators sense that something here is deeply wrong. It's the kind of town where secrets writhe like worms under the surface. The kind of town where Ness's evil might have planted deep and sinister roots. The kind of town three women might never leave alive.
FROM THE INTERNATIONAL #1 BESTSELLING AUTHOR
____________________
A body is found in the hills – but the truth still lies buried…
In a small town in the Deep South, Flora Dane is part of a task force committed to hunting down every last trace of notorious serial kidnapper Jacob Ness. As his last victim, imprisoned by Ness in a small box for over a year, she knew him better than most. Even after his death, his evil still lingers.
But this is the kind of town that doesn't take kindly to strangers asking questions.
The kind of town where dark secrets lurk just beneath the surface.
The kind of town she might not leave alive.
____________________
Featuring Detective D.D. Warren and FBI Special Agent Kimberley Quincy
____________________
'A string of murders, a crack FBI team and a voiceless girl desperate for revenge – this twist-a-minute thriller has it all.' KARIN SLAUGHTER
'A twisty-turny psycho-thriller with a plot and characters that won't let you go. Lisa Gardner is at the top of her game!' KATHY REICHS
'When You See Me is another rocket-fuel-propelled thriller from Lisa Gardner. This culmination of her great talents . . . starts out chillingly intimate and explodes into a sky-high denouement that will leave you breathless.' GREGG HURWITZ
____________________
Readers love WHEN YOU SEE ME:
'I haven't read a Lisa Gardner book in a while, I will go searching to see what I have missed.
What a book! I was totally gripped and read it in one go.'
'A fantastic nail biting read'
'When it comes to writing a tense, fast paced, gripping and unputdownable thrillers, Lisa Gardner has few rivals.'
'Psychological twists and turns abound making this a taut thriller to read'
'A wonderfully realised psycho-thriller of the highest order.'
'Unmissable and unputdownable – When You See Me demands to be read in one sitting.'
'This story had me experiencing a whole spectrum of emotions from shock and horror to breathless anticipation.'
'I just swallowed this whole.'
'The suspense and thrill throughout the book was absolutely stunning! The twists and turns kept me awake all night'
'The first book I have read in the series but it is perfect as a standalone, though it does make me want to read the previous books in the series.'
'A fast-paced, page-turning thriller'
'A fast paced read with chilling moments that will give you goosebumps and keep you on the edge of your seat for many moments.'
'I honestly cannot recommend this book enough.'
'Riveting and thrilling at times, this was a grippingly good read.'
'This is my first read of Lisa Gardner and what a great read. I can see that I have been missing out so will have to put that right'
'Incredible penmanship with a tendency to keep a reader hooked. So excited for people to read this!'
'I loved this!'
'I will certainly be going back and reading the books in the series.'
'This is an excellent novel and I highly recommend this to other readers'
'It starts well and finishes even better!'
'There was barely time to pause for breath reading this!'
'This author is unrivalled in the genre in my opinion.'
In stock