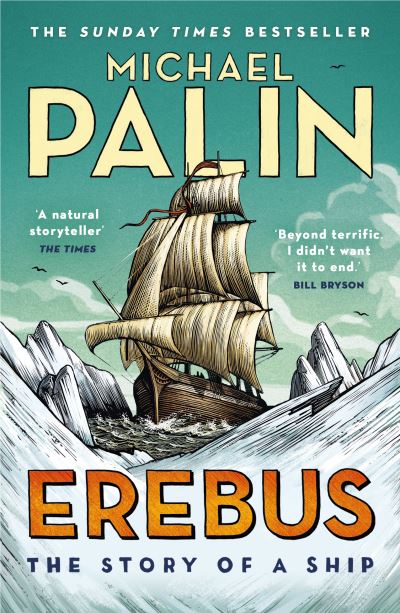 Erebus: The Story of A Ship
£9.99
Michael Palin brings to life the world and voyages of HMS Erebus, from its construction in the naval dockyards of Pembroke, to the part it played in Ross's Antarctic expedition of 1839-43, to its abandonment during Franklin's ill-fated Arctic expedition, and to its final rediscovery on the seabed in Queen Maud Gulf in 2014. He explores the intertwined careers of the men who shared its journeys: the organisational genius James Clark Ross, who mapped much of the Antarctic coastline and oversaw some of the earliest scientific experiments to be conducted there; and the troubled Sir John Franklin, who, at the age of 60 and after a chequered career, commanded the ship on its final journey.
_______________
THE SUNDAY TIMES BESTSELLER: the remarkable true story of the exploration ship featured in The Terror
In the early years of Queen Victoria's reign, HMS Erebus undertook two of the most ambitious naval expeditions of all time.
On the first, she ventured further south than any human had ever been. On the second, she vanished with her 129-strong crew in the wastes of the Canadian Arctic, along with the HMS Terror.
Her fate remained a mystery for over 160 years.
Then, in 2014, she was found.
This is her story.
_______________
Now available: Michael Palin's North Korea Journals
_______________
A BBC RADIO 4 BOOK OF THE WEEK
'Beyond terrific . . . I didn't want it to end.' Bill Bryson
'Illuminated by flashes of gentle wit . . . It's a fascinating story that [Palin] brings full-bloodedly to life.' Guardian
'This is an incredible book . . . The Erebus story is the Arctic epic we've all been waiting for.' Nicholas Crane
'Thoroughly absorbs the reader. . . Carefully researched and well-crafted, it brings the story of a ship vividly to life.' Sunday Times
'A great story . . . Told in a very relaxed and sometimes – as you might expect – very funny Palin style.' David Baddiel, Daily Mail

'Magisterial . . . Brings energy, wit and humanity to a story that has never ceased to tantalise people since the 1840s.' The Times
In stock