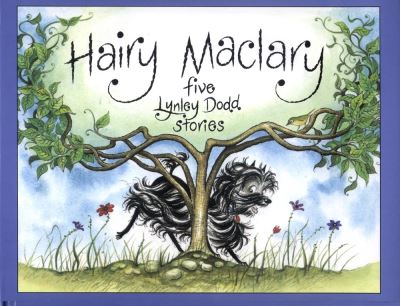 Hairy Maclary
£14.99
All of Lynley Dodd's Hairy Maclary stories to date, from 'Hairy Maclary from Donaldson's Diary' to 'Hairy Maclary's Rumpus at the Vet', are compiled in a chunky hardback gift edition. This book will please all Hairy Maclary fans.
Hairy Maclary from Donaldson's Dairy is the hilarious rhyming classic by Lynley Dodd.
A deliciously chunky hardback gift edition of five Hairy Maclary stories from the first, HAIRY MACLARY FROM DONALDSON'S DAIRY to HAIRY MACLARY'S RUMPUS AT THE VET.
Lynley Dodd is an award-winning author/illustrator who lives in New Zealand. She is enormously popular for her rhyming stories of the unforgettable HAIRY MACLARY and his friends. She worked as a teacher before beginning to write her own books in 1974.
Read all the Hairy Maclary and Friends books by Lynley Dodd!
Hairy Maclary's Bone; Hairy Maclary Scattercat; Hairy Maclary's Caterwaul Caper; Hairy Maclary's Rumpus at the Vet; Slinky Malinki; Hairy Maclary's Showbusiness; Slinky Malinki, Open the Door; Sniff-Snuff-Snap!; Schnitzel Von Krumm Forget-Me-Not; Slinky Malinki Catflaps; Slinky Malinki's Christmas Crackers; Hairy Maclary's Hat Tricks; Scarface Claw; Schnitzel Von Krumm, Dog's Never Climb Tress; Hairy Maclary, Sit; Hairy Maclary and Zachary Quack; Magnet Fun with Hairy Maclary; Hairy Maclary, Shoo; Hairy Maclary and Friends Little Library; Slinky Malinki, Open the Door; Slinky Malinki Early Bird; Where is Hairy Maclary?; Sticker Fun with Hairy Maclary; My Cat Likes to Hide in Boxes
In stock