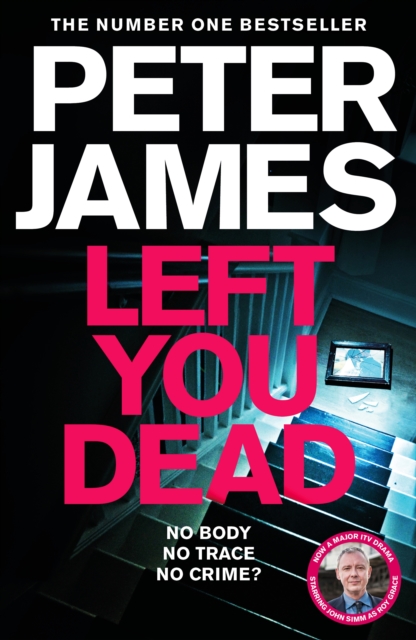 Left You Dead – EVENT & SIGNED BOOK
£20.00
An Evening with Peter James & John Simm
Thursday 13th May 6.30pm VIRTUAL
Tickets £20 (£23.25 posted) with Signed Hardback Book
Ticket includes: Virtual event with Peter James & John Simm hosted by publisher Pan Macmillan, plus a Signed Hardback of LEFT YOU DEAD.
Event format: * Hosted interview with Peter James & John Simm about bringing much-loved character Roy Grace to the screen, * then Peter James will talk about his new Roy Grace book LEFT YOU DEAD, * then there will be an opportunity for the audience to ask Questions.
We are deligthed to bring you this on-line event in collaboration with publisher Pan Macmillan, to celebrate the publication of LEFT YOU DEAD, the latest in the Detective Superintendent Roy Grace series from Peter James. An Evening where Peter and John Simm will discuss all things Grace!
Peter James is the UK No. 1 bestselling author and creator of the much-loved Detective Superintendent Roy Grace. With a total of 17 Sunday Times No. 1s under his belt, he has achieved global book sales of over 21 million copies to date and been translated into 37 languages. He has won over 40 awards for his work.
His first two Roy Grace novels, Dead Simple and Looking Good Dead, have been adapted into two feature-length films for ITV starring John Simm.
If you've never attended a Virtual Event before, this is a fantastic way to engage with your favourite author from the comfort of your own living room! Simply purchase a ticket by clicking on the book-jacket below (or pop in to the bookshop, or give us a call on 01253 796 958). We will provide you with a link to the online event when you have purchased your ticket and you can type the link in to your computer or phone to join us on the night.
Tickets cost £20 (or £23.25 with book posted) and include a signed hardback copy of LEFT YOU DEAD.
Books can be collected free of charge from the bookshop or posted to you for an additional £3.25.
In stock