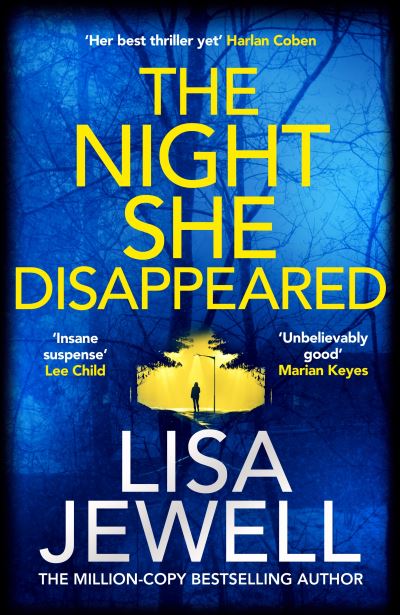 The Night She Disappeared
£14.99
It's late at night and Kim is waiting. Her daughter, Tallulah, is out on a date, and hasn't returned. Desperate to find out where she might be, Kim contacts her friends, and discovers that Tallulah was last seen heading to a party at a house in the woods. The locals call it Dark Place. Two years on, the mystery of Tallulah's disappearance remains unsolved. But could a note discovered in the woods lead to the truth about what happened that night?
'Lisa Jewell is one of my favourite writers and this is her best yet. I read it in 24 hours. Utterly gripping with richly drawn, hugely compelling characters, this is a first class thriller with heart.' LUCY FOLEY
'I'm calling it early. This is Lisa's best book yet, and she always sets that bar high! Stayed up so late because I couldn't put it down.' ADELE PARKS, author of Lies Lies Lies and Just My Luck

'I love all Lisa's books, but The Night She Disappeared is by far her best thriller yet.' HARLAN COBEN
'Mother of God, Lisa Jewell's on fire. The Night She Disappeared is UNBELIEVABLY good. I was utterly utterly agog.' MARIAN KEYES
'Insane suspense. I loved it.' LEE CHILD
___________________________
OUT NOW! The brand-new twisting page-turner from Lisa Jewell, bestselling author of THE FAMILY UPSTAIRS and INVISIBLE GIRL
'Mum, there's some people here from college, they asked me back to theirs. Just for an hour or so. Is that OK?'
Midsummer 2017: teenage mum Tallulah heads out on a date, leaving her baby son at home with her mother, Kim.
At 11 p.m. she sends her mum a text message. At 4.30 a.m. Kim awakens to discover that Tallulah has not come home.
Friends tell her that Tallulah was last seen heading to a pool party at a house in the woods nearby called Dark Place.
Tallulah never returns.
2018: walking in the woods behind the boarding school where her boyfriend has just started as a head teacher, Sophie sees a sign nailed to a fence.
A sign that says: DIG HERE . . .
___________________________
A cold case. An abandoned mansion. A family hiding a terrible secret.
Prepare to be hooked. Lisa Jewell's latest thriller is her best yet.
'Gripping and satisfying, this had me in tears at the end.' ALISON FLOOD, Guardian
'Clever, compelling and brilliantly observed. Loved it!' PAULA HAWKINS
'Oh my God, so good. A head-scratching, heart-racing, page-turning triumph – I think this might be my favourite Lisa Jewell yet.' LOUISE CANDLISH
'No one thickens a plot like Lisa Jewell. I couldn't put this book down. Jewell just keeps getting better. It's SO GOOD!' SHARI LAPENA
'I loved The Night She Disappeared. Had me hooked right to the end!' RUTH JONES
'Masterly. Gripping from start to finish.' JOANNE HARRIS
'Another first-class mystery . . . Totally enthralling.' HARRIET TYCE, author of Blood Orange
'Totally absorbing. I felt as though I'd slipped into the book and lived there for a few days, heart pounding. So so so amazing!' KATHERINE HEINY, author of Early Morning Riser
'Absolutely loved this one by Lisa Jewell – compelling, deep, surprising, tense, modern. Most thrillers are in black and white to me in terms of character and Lisa is blazing saturated technicolour.' GILLIAN MCALLISTER, author of Everything But the Truth
'I'm passionately attached to Lisa Jewell, whose novels somehow manage to be good-natured, creepy and tense all at once.' SARAH PERRY, author of The Essex Serpent
In stock