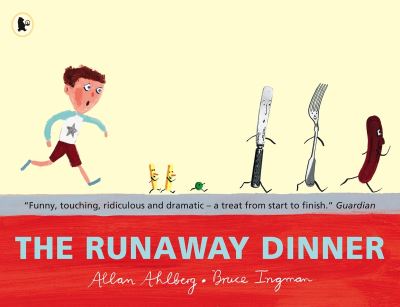 The Runaway Dinner
£7.99
Banjo is a very hungry little boy who every evening has a sausage for his dinner. But one day his sausage, called Melvin, jumps off the plate and races down the road, and everything else follows – peas, French fries, carrots, fork and knife, table and chair – with Banjo bringing up the rear.
Talk about fast food! A hilarious, high-speed tale from the inimitable Allan Ahlberg – catch it if you can!
The celebrated Allan Ahlberg is in his element in this fast-paced, funny story about what happens when dinner decides that it doesn't fancy being eaten. Just as hungry little boy Banjo is about to tuck into his sausage, it jumps right up off the plate and runs away! But the sausage – whose name is Melvin – isn't alone… He's followed by the fork, the knife, the table, the French fries and even the peas. And so the chase is on! Will Banjo ever catch up with his runaway dinner? And what (gulp) happens to Melvin if he does? Gloriously illustrated by the award-winning Bruce Ingman, this is a whacky, whimsical romp perfect for reading aloud.
In stock