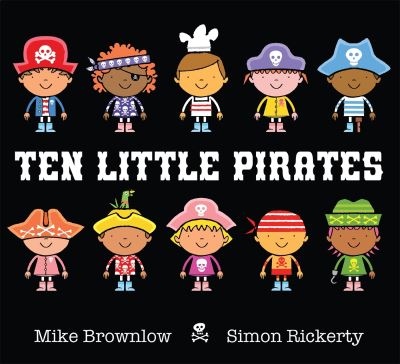 Ten Little Pirates
£6.99
Ten little pirates set out to sea in search of adventure. But what will the ten little pirates do when they meet a hurricane – and a giant squid – and a hungry shark? This fun-filled rhyming story, which incorporates counting backwards from ten to one, is great to share with young children who are learning about numbers. The colourful, humourous illustrations feature objects to spot and count on every page.
Count along with the Ten Little Pirates in this action-packed, counting rhyme adventure!
The Ten Little Pirates are sailing out to sea … But what will the Ten Little Pirates do when they meet a singing mermaid? And a whooshing hurricane? And a HUNGRY shark?
Part traditional counting rhyme, part fun-filled story, Ten Little Pirates is perfect for sharing together.
Read the bouncy rhyming story.
Count from ten to one and back again, as the Little Pirates disappear then reappear.
Spot and count the details on each page.
And join in with all the great sound-words!
The Ten Little series has sold over a million copies worldwide, and Ten Little Bookworms is a 2019 World Book Day pick.
'Traditional counting rhyme given a jaunty pirate twist that kids will love… a rollicking read with an easy rhythm and jaunty illustrations… excellent.'
Guardian
In stock